The second Mind & Market Forum in Luxembourg, will take place on 30 June 2016. It aims to provide a forum for innovative business ideas that could lead to successful start-ups. Young entrepreneurs have the opportunity to pitch their innovative ideas to a panel of experts – ahead of the event, the FNR takes a look at Mind & Market and catches up with the 2015 winner, FNR-funded start-up Motion-S.
"According to the government programme, the economic impact of public research in Luxembourg is a priority. Consequently, one of the FNR's strategic objectives is to contribute to the economic exploitation of the results obtained in public research projects. The 'Mind & Market' project is an effective way to achieve this, as it enables researchers to exchange their ideas with potential partners and benefit from immediate feedback from the industry." – Marc Schiltz, Secretary General of the FNR
Mind & Market creates a stage for innovation at the Maison du Savoir in Belval, a location that was not chosen at random, as it serves as a showcase for Luxembourg's Research and Innovation. Within a bit more than a decade, an internationally recognised research ecosystem emerged, which is now expected to have an increasing socio-economic impact, i.e. generate successful business concepts.
Innovation takes centre stage: 5 minutes that make the difference
This also requires appropriate input from outside, which is exactly what Mind & Market aims to provide. Young (future) entrepreneurs are given five minutes on the innovation stage to pitch their business idea to the jury and an audience of experts, consisting of not only the initiators – the FNR, Deloitte Luxembourg, University of Luxembourg, Luxinnovation and Mind & Market Belgium –, but also international experts from a variety of fields.
The event brings together financial and economic experts as well as HR and marketing professionals and representatives from the manufacturing industry and the service sector, who won't just be coming to Belval as spectators. Instead, they will take the opportunity to speak with the talented entrepreneurs who've come to pitch their ideas. After all, Mind & Market is not just a competition; it is also a networking event.
Reasons to attend: high networking factor and media visibility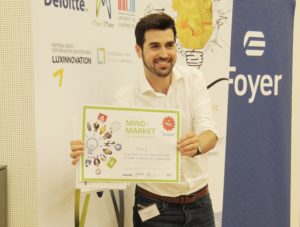 According to Raphael Frank, networking is even more important than winning and should be the main reason for researchers with a business idea to participate in Mind & Market. As co-founder and COO of last year's winning company, Motion-S – which is funded by FNR and will be releasing a new version of their responsible driving app "Game of Roads" on June 16 –, he believes visibility is key.
"Mind & Market receives a lot of attention in the media, and this also benefits participants. Our participation and the related media coverage have definitely helped us gain recognition in Luxembourg and the greater region", says Raphael Frank. All this networking has also paid off: "One of the contacts we made at Mind & Market has since become an important strategic partner."
---
This article was originally published on LinkedIn Pulse on 10 June 2016
More information: External links