HOW TO FIND US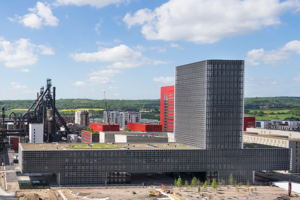 The FNR is located on the 8th floor of the Maison du Savoir.
Upon arrival at Maison du Savoir, take the entrance 'Administration'.
Go past reception and take lift to 8th floor.
GETTING TO BELVAL
By car
The nearest parking facility is directly by the Maison du Savoir, which offers parking outside Maison du Savoir and underneath the building.
Please note, the FNR generally does not validate or refund parking expenses.
By public transport
For general inquieries, please contact us on info@fnr.lu.
For funding programmes related inquiries, please contact the relevant Programme Support Manager on our dedicated page
Our Team
.
Maison du Savoir (8th floor)
2, avenue de l'Université
L-4365 Esch-sur-Alzette
Postal Address:
B.P. 1777
L-1017 Luxembourg
GPS coordinates: 49.504839 | 5.948214
Tel : +352 26 19 25-1
Fax : +352 26 19 25-35